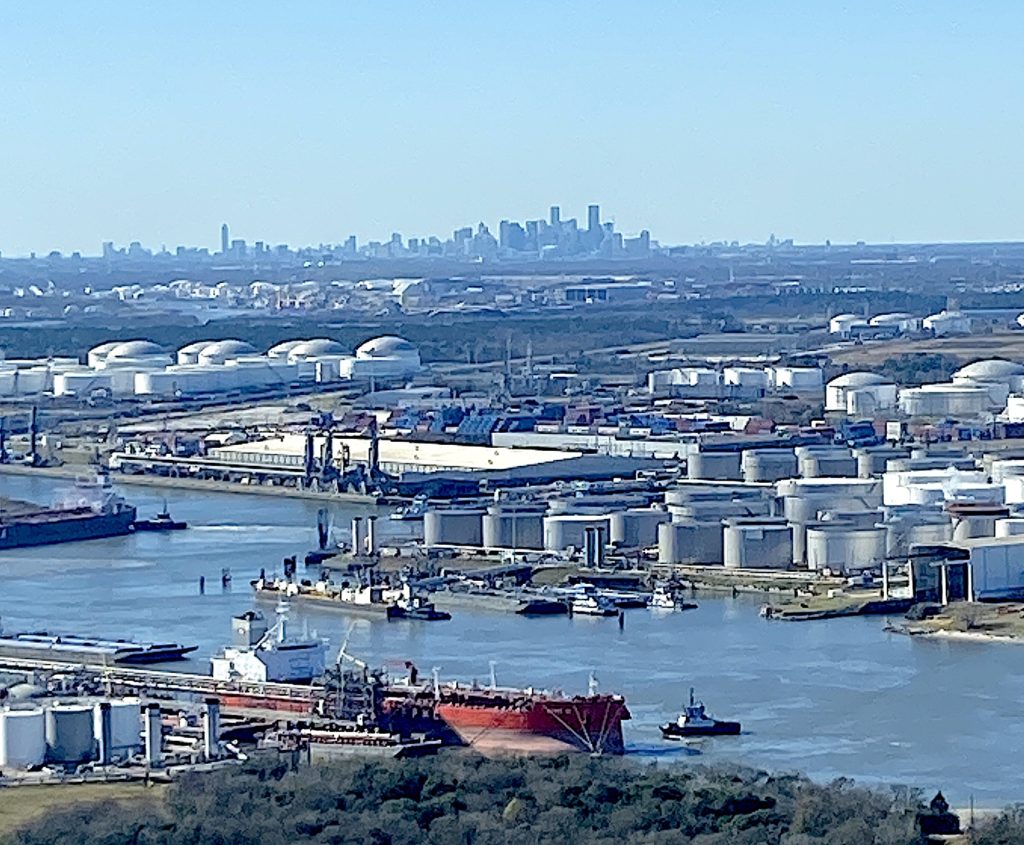 " The Port of Houston is a 25-mile-long complex of nearly 200 private and public industrial terminals along the 52-mile-long Houston Ship Channel. The eight public terminals are owned, operated, managed or leased by the Port of Houston Authority and include the general cargo terminals at the Turning Basin, Care, Jacintoport, Woodhouse, and the Barbours Cut and Bayport container terminals.
Each year, more than 247 million tons of cargo move through the greater Port of Houston, carried by more than 8,200 vessels and 215,000 barges. In 2019, the port achieved the number 1 ranking in total waterborne tonnage in the United States and still ranks 1st in the U.S. in foreign waterborne tonnage; 1st in imports; 1st in export tonnage and 1st in total vessel transits. It is also the nation's leading breakbulk port, handling 52 percent of project cargo at Gulf Coast ports.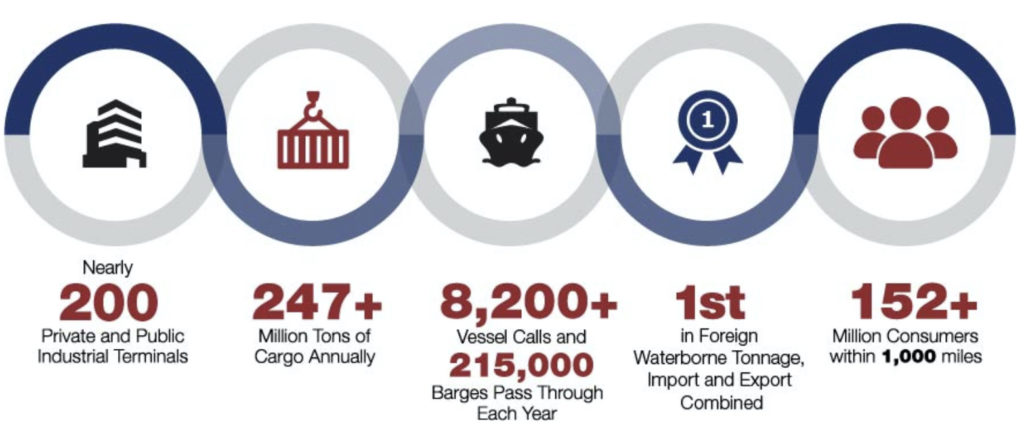 Being the largest port on the Gulf Coast and the biggest port in Texas, the Port of Houston has been instrumental in the city of Houston's development for international trade. It is home to a multi-billion petrochemical complex, the largest in the nation and second largest in the world. Carrier services on all major trade lanes link Houston to international markets around the globe. The ship channel also intersects a very busy barge traffic lane, the Gulf Intracoastal Waterway.
Centrally located on the Gulf Coast, Houston is a strategic gateway for cargo originating in or destined for the U.S. West and Midwest. Houston lies within close reach of one of the nation's largest concentrations of 152 million consumers within 1,000 miles. Ample truck, rail and air connections allow shippers to economically transport their goods between Port Houston and inland points.
The port is vital to the local, state and national economy and the maintenance and improvements of the public facilities ensures its continued economic impacts. Keeping the port secure so that business can flow freely is also an essential responsibility. As the local sponsor of the Houston Ship Channel, the Port Authority plays an important role in the management and environmental stewardship of this important waterway. "
2 Containers Terminals : Barbours Cut & Bayport.